Activities Nearby
Welcome to
COSTA RICAN VILLAS
Get the Picture? There is so much to do in Costa Rica. It is the ultimate blend of tropical jungle and modern conveniences all in a paradise of its own. Renowned for decades as a sport-fishing haven and surfing hotspot, Costa Rica has become just as popular for its ecotourism...with natural beauty from the rain forest canopy to the grandeur volcanoes to the rich, vibrant coast in which it is named for. With so much to do, you'll truly have a new memory each day but don't forget to take some time and take it all in. No extra charge.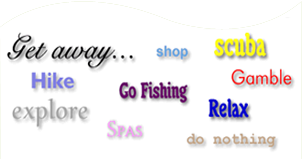 There is so much to do in Costa Rica and by staying at Villa Las Brisas, you're right in the heart of everything you want to do on your vacation. Here is a sampling of activities that you may want to consider during your stay. We provide you with more information on these and other activities when you book your stay with us. We have a concierge service in Costa Rica that will assist you with booking activities and other needs once you arrive. Our villa in Playa Panama is located only twenty minutes from the Daniel Oduber International Airport in Liberia – there are daily flights here from Delta, Continental, Air Canada, American, and United. With a new terminal set to open in Spring 2012, the airport is one of the top airline destinations in Central America.
Volcan Arenal & Tabacon Hot Springs
The Arenal Volcano is the most active volcano in Costa Rica. There are day and night tours of the volcano and the surrounding area. The Tabacon Hot Springs accompany the volcano at its base, and the 5-star spa has lush gardens, heated and cooled pools, and extraordinary volcano-heated hot springs.
Visit the rain forest and all its natural beauty first hand. There are hiking and walking tours as well as treetop tours where you can walk on bridges that span between treetop platforms.
Costa Rica is famous for its fishing and the coastal fishing areas are just minutes away. Sailfish, marlin and tuna are abundant along with many other ocean species and the inland fishing is superb as well.
Nightlife is always excellent entertainment in Costa Rica and it doesn't get much better than the beach lounges, and clubs in Playas del Coco, only a short drive from the villas. You'll have the time of your life out on the dance floor to familiar club hits and some not-so-familiar local favorites.
Whether you want to kayak or jetski out in the middle of the Pacific Ocean, a short drive down the hill to Playa Panama or Playa Hermosa has all the watersports you could want to enhance your day.
The Fusion Spa is just a few minutes away if you want to be pampered while at Las Brisas. There are also hot spring spas in the resort at the base of the Arenal Volcano.
There are hiking trails ranging from easy to difficult, half-days to overnight camping, all through the area. Both close by and in national forests as well as private reserves.
In nearby Playa del Coco the dive center can arrange trips to the Culebra Bay and to other islands and areas that offer varied sights including sharks and manta rays.
If you want to enjoy the old-culture of downtown San Jose, it will be a fair drive by bus or car. This old city has lots of old colonial culture to it, but it's just as modern and equipped as any other national capital in the world.
Downtown Liberia, the capital of Guanacaste, is a bumbling colonial town with many restaurants and stores. Some of the better internet cafes and grocery stores in the area are also located here.